Stone's Branden Martin & Vermont Report Card Committee Give State Infrastructure a "C"
Stone Environmental's own Project Engineer Branden Martin was part of a presentation at the State House last week for the release of the 2019 Report Card for Vermont's Infrastructure. In addition to his work at Stone, Branden serves as president of the American Society of Civil Engineers - Vermont, and as a co-vice chair of Vermont Report Card Committee. The Report Card gave ratings on nine categories of Vermont's infrastructure, including its aviation (C-), bridges (C+), dams (C), drinking water (C-), energy (B-), roads (C+), solid waste (B-), stormwater (D+), and wastewater (D+). The report also gave the state an overall grade of C, which has not changed since 2014.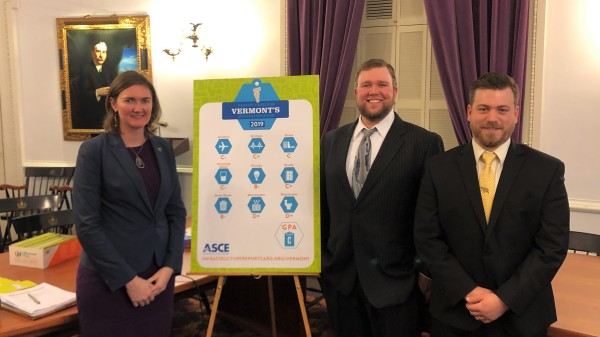 For more information on the committee's findings, see the coverage of the presentation by VT Digger and Vermont Business Magazine.