Staff
Nicholas Floersch Senior Web / GIS Application Specialist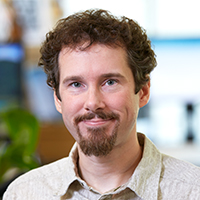 Nick is a Senior Web / GIS Application Specialist at Stone with over 25 years of experience in all aspects of application development and server integration. He started working with GIS in high-school, and has been working with it to varying degrees ever since. After earning his BSc. in Computer Science, Nick came to Stone full time as the IT manager. He migrated away from his IT role to become a GIS application developer in 2006. Nick has a keen interest in many aspects of software development and GIS including software development methodologies, information systems, and programming spatially enabled applications.
Years of Experience 26
Years at Stone 23
Education
Bachelor of Science., Computer Science with distinction, minor in Philosophy, 2004, Bishop's University, Lennoxville, Quebec, Canada

Professional Certifications

Geo Portal Toolkit, ESRI, 2008.
Markets